What is the sentiment index?
Legal Media 360's sentiment index reflects the overall market reputation of Asia's leading law firms and lawyers. Our benchmarking tables is derived from the in-depth research and analysis of rankings from market leading publications.
At Legal Media 360, we only consider publications that have a rounded research process. This means they must consider peer and client reviews as well as submissions in their research.

These publications are asialaw, Benchmark Litigation, Chambers and Partners, IAM1000, IFLR1000, IP Stars, Legal 500, World Trademark Review 1000.
Why the market needs the sentiment index
The market demand for a clear benchmarking tool is demonstrated by the huge volume of available rankings and the variation between each list caused by differences in methodology, terminology and categorisation.
At Legal Media 360, we provide consolidated ranking and awards data sets for comparisons between law firms and lawyers. Our league tables are simple to understand and uses unique algorithms to create in depth data sets.
How the sentiment index works
Stage one
Atomic data from publications is analysed and then standardized so data can be aggregated. This includes:
The naming of firms, lawyers, practice areas and jurisdictions.
The categorization of firm and lawyer tiers.
Aside from "Notable", all other nominal scales for firms are converted to a numerical scale.

For lawyers, due to the variance in categorization at atomic level, lawyer rankings have been reclassified to bring them together in a common scale without distorting the differences in the range of the values. This has been achieved by referring to the definitions provided by the publications.

Lawyers in Legal Media 360 are only recognised on a six-tier scale: Senior statesperson, Tier 1, Tier 2, Up and coming partner, Rising star and Notable practitioner.

Definitions:
Senior statesperson: Retired/semi-retired influential lawyers with close relationships with major institutional clients. Mainly work as a consultant.
Band 1 (1.0 to 1.9): Leading lawyers who have an outstanding reputation and a strong track record for leading the most significant matters.
Band 2 (2.0 to 2.9): Highly regarded lawyers who are active on significant matters.
Up and coming partner: Partner level lawyers establishing their reputation and have been recognised for leading/assisting on significant matters. Potential to be a tiered lawyer in the future.
Rising star: Junior lawyers establishing their reputation and have been recognised for assisting on significant matters. Potential to be a tiered lawyer in the future.
Notable practitioner: Lawyers who have had some market recognition and been on some notable matters. Not yet a tiered lawyer.
Additional layers of data have been added to provide more qualifying information for the user. The lawyer's gender as well as the firm type is indicated to highlight whether a firm is domestic, international, offshore, multi-practice or specialist.

Stage two
To provide meaningful insights, only information which can be aggregated is included in the index.
This means:
Firms and lawyers must be recognised in more than one publication.
Practice areas must have a one-to-one match in more than one publication.
Some directories deconstruct practice areas while others are more holistic. Some rankings include both international and domestic firms/lawyers in a practice area ranking, while others do not. This careful analysis of how each publication classifies and presents a practice area ensures law firms and lawyers are accurately positioned in the sentiment index and this process mitigates any data that can skew the position of firms and lawyers in the index.

Stage three
After the data has been vetted for inclusion, we calculate the number of times a firm or lawyer is rated in a specific practice area, and the tier in which they appear.
Firms and lawyers rated the most times with the highest average tier are given a superior weighting in our index.
The 2023 dataset covers rankings published from January to December 2022.

Awards
Awards data is only used to provide an additional level of qualifying information to the user. They showcase individual award nominations and wins in categories including deals/cases, practice area specialisms, and practice management such as diversity, governance, and innovation.
Atomic awards data is categorized, and naming conventions standardized. This highlights which firms, lawyers, cases and deals are receiving the most recognition via nomination/win ratio.
Awards data from the following sources are used in our research:
Asian Legal Business, ALM, asialaw, Benchmark Litigation, China Business Law Journal, Chambers and Partners, China Law and Practice, India Business Law Journal, International Financial Law Review, Law.Asia, Legal 500, Managing IP
Legal Media 360 refreshes the awards list annually in December.

If you require any further information, please contact William.lo@legalmedia360.com
---
Ranking table by jurisdiction
Band: A firm/lawyer's overall Legal Media 360 band in a specific practice area.
No. of Rankings: The number of publications that have recognised a firm/lawyer in a practice area.
Ave. Band: The average band in which the firm/lawyer appears across all available sources.


---
Ranking tables

Each ranking table is split into practice area headings. Depending on market consensus, each practice area may be divided into sub-practice areas.
In some cases, source media do not publish sub-practice area rankings and simply use an overarching ranking (for example "Capital markets" or "Intellectual property"). In these instances, the term "General" is used to denote a firm or lawyer's overarching practice area ranking.
---
Awards tables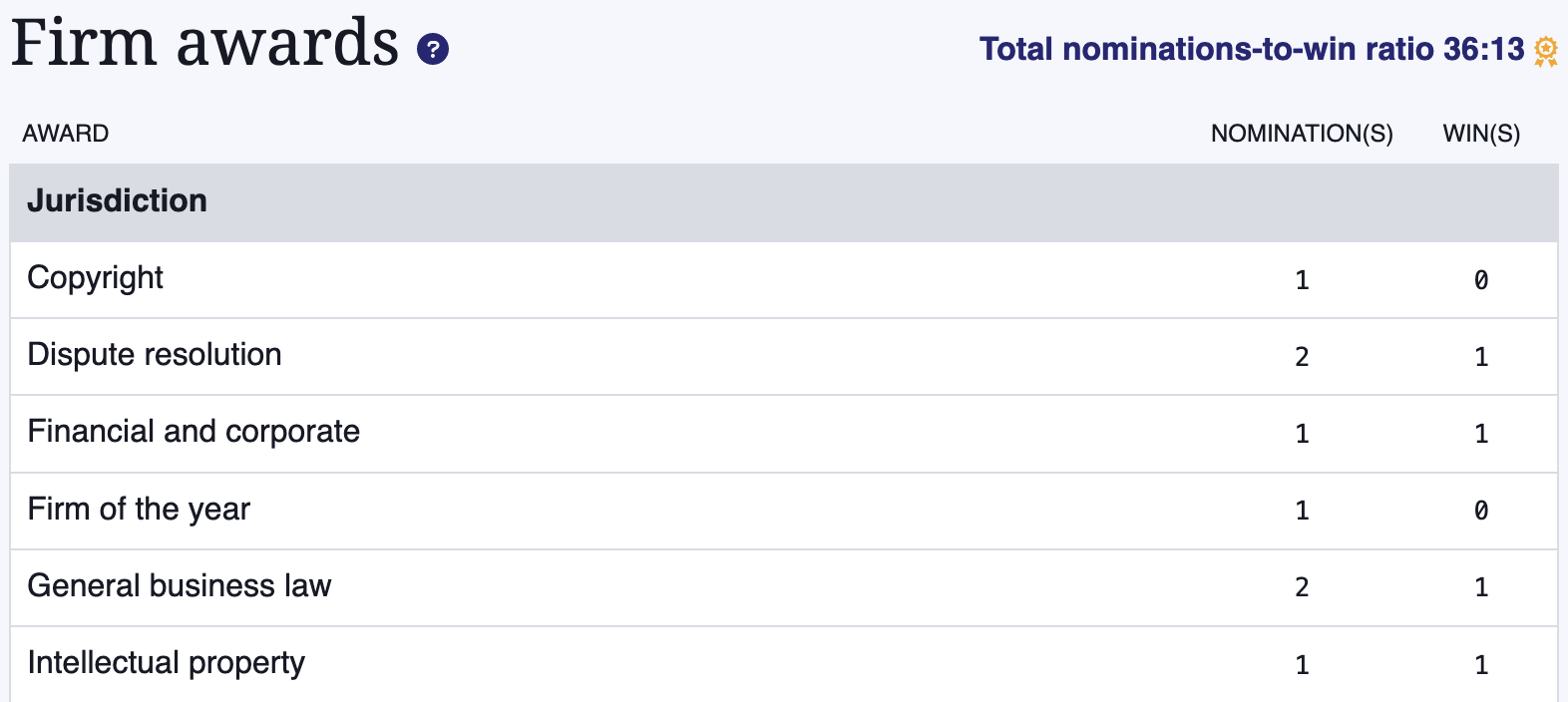 The Awards table displays the number of wins and nominations in the form of win-to-nomination ratio in the currently published year.
Deals/Case awards indicate significant clients, deal size and work type a firm has recently been involved in.
Firm awards indicate the strength of a firm overall, by practice area and practice management.