What is the brand sentiment index?
Legal Media 360's brand sentiment index reflects the market reputation, client satisfaction rates, and public relations achievements of Asia's Leading Law Firms and Lawyers. It is derived from in-depth research and analysis of market leading legal rankings and awards by our experienced team.
We only include data that has met a rigorous vetting standard, such as through cases and deal submissions, as well as surveys and interviews with individual private practitioners or in-house counsel.
Why the market needs the brand sentiment index
LM360 is meeting a demand in the market for easy to understand comparisons between law firms and lawyers. Our data is simple to understand at a glance and uses unique algorithms to create in depth data sets.
The market demand for a clear benchmarking tool is demonstrated by the growing list of company's that rank law firms. And also, by the countless hours firms spend submitting their applications to these lists. However, there is a huge variation between each list caused by differences in methodology, terminology and categorisation.
How can a law firm possibly understand their place in the market with such a wide range of data sources?
That's where LM360 comes in. We collate data from across rankings and awards to create easy to understand benchmarking league tables.
How the brand sentiment index works
Our brand sentiment index is calculated by referencing the number of times a firm or lawyer is rated in a specific practice area, and the tier in which they appear.
Firms and lawyers rated the most times with the highest average tier are given a higher weighting in our index.
Awards data is used as an additional level of qualifying information, showcasing individual award nominations and wins in categories including deals/cases, practice area specialisms, and practice management such as diversity, governance, and innovation.
If you require any further information, please email: contact@legalmedia360.com.
---
Ranking table by jurisdiction

Index Rank: A firm's overall position in a specific jurisdiction based on all available sources
Overall Average Tier: The average tier in which the firm appears across all sources
Change: Highlights a LM360 change in ranking position year-on-year (coming soon)


---
Key statistics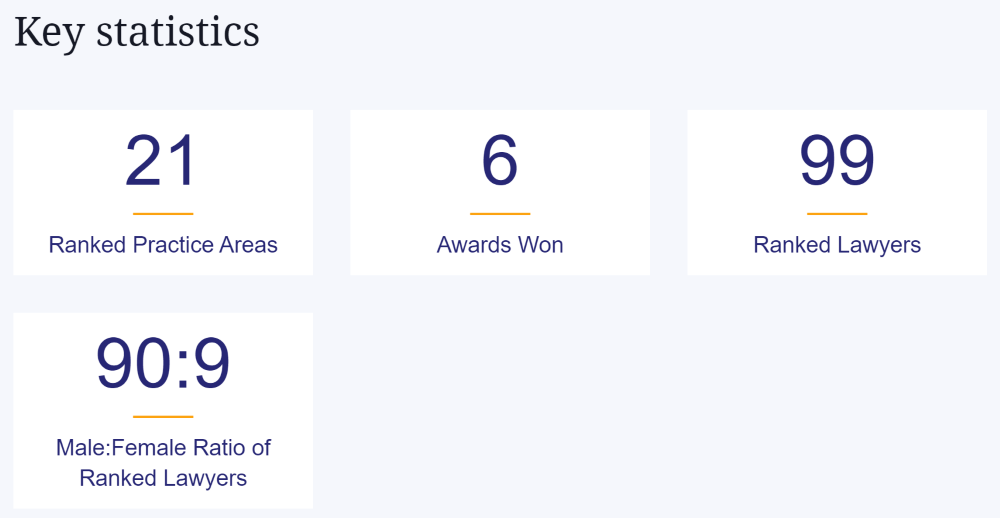 Offers an overall snapshot of a firm and its ranked lawyer statistics across all jurisdictions and practice areas for the current year
---
Ranking tables

Each ranking table is split into practice area headings. Depending on market consensus, each practice area may be divided into sub-practice areas.
In some cases, source media do not publish sub-practice area rankings and simply use an overarching ranking (for example "Capital markets" or "Intellectual property"). In these instances, the term "General" is used to denote a firm or lawyer's overarching practice area ranking.
---
Awards tables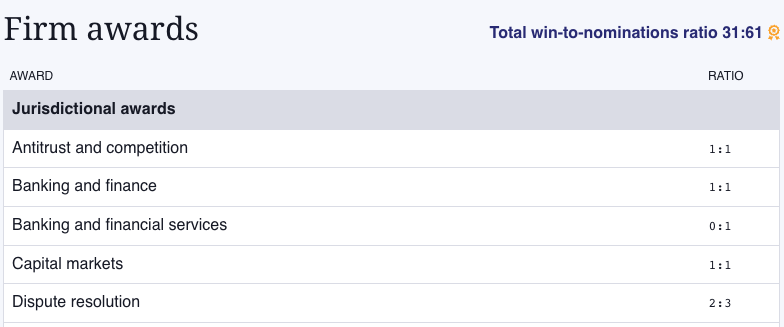 The Awards table displays the number of wins and nominations in the form of win-to-nomination ratio in the currently published year.
Deals/Case awards indicate significant clients, deal size and work type a firm has recently been involved in.
Firm awards indicate the strength of a firm overall, by practice area and practice management